Free shipping on orders over $75
FREE US SHIPPING OVER $79 USD
Showing 2 products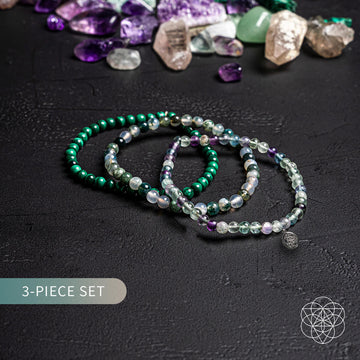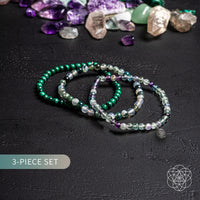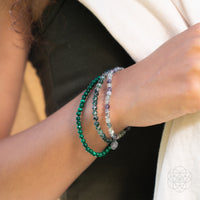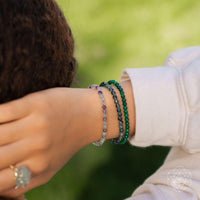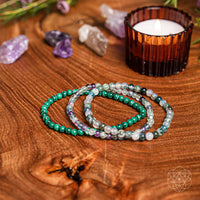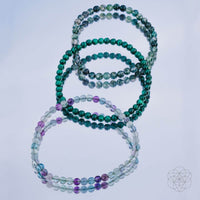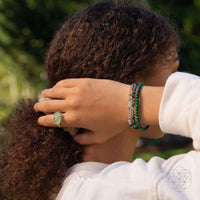 The Energy Defence Bracelet Set
Tranquility • Protection • Balance
or $9.99 every 2 weeks. Interest-free
Keeping your energy protected is crucial in this day and age. A healthy and balanced inner body strengthens the immune system so you can better fight off disease, illness and aging in the outer body. To give the utmost protection, we offer three fantastic crystal bodyguards: Malachite, Fluorite and Aquatic Agate.   Malachite is a stone for the heart chakra. Don't expect your usual soft and gentle love stone though. Malachite hits you like a ton of bricks. Its energy is strong and ruthless -- the perfect combination for a prospecting crystal bodyguard. It absorbs negative energies and shields your aura against electromagnetic radiation.   Fluorite is also a sponge for negative energy. It neutralizes it and brings it under control so that it doesn't spread. Fluorite works on the third eye chakra too, so removing negative energy actually enhances your ability to focus. It clears up mental fog and allows you to think with crystal clear clarity. This makes it a great support stone for studying. It's a win-win!   Aquatic Agate is the crystal for the final bracelet. It helps you release unwanted emotions, the ones that linger far past their use-by date. In their place, it fills you with inner peace and stillness. It's a great stone for connecting with universal love -- look for it inside you in times of stress.    Make sure your energy is well defended with these three natural stone bracelets!   Affirmation: For added protection, you can recite mantras, such as, "I am guided, guarded and protected by the divine." As the bracelet is made of natural stones, the colors may vary slightly from stone to stone, making each one utterly unique.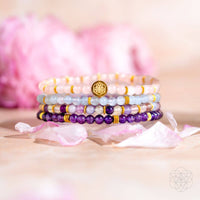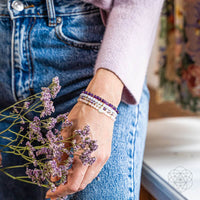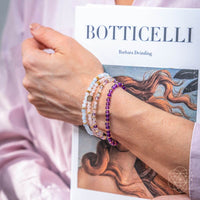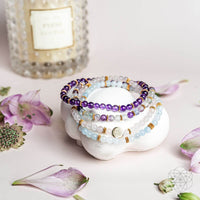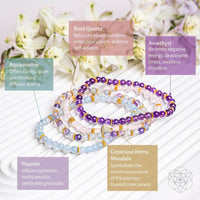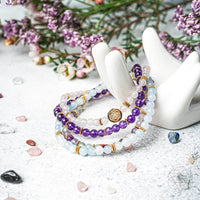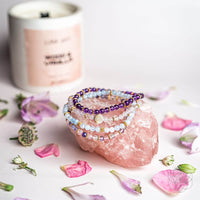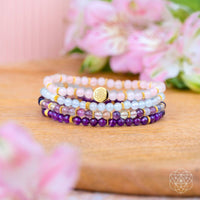 Soothe My Mind: Anti-Anxiety Bracelet Pack of 4
Anti-Anxiety • Mental Health • Stillness
or $14.99 every 2 weeks. Interest-free
Banish the clouds of anxiety, rains of depression, and storms of negativity by inviting sunshine and clear skies of hope, inner peace, optimism, and resilience. This healing 4-piece bracelet set eliminates mental barriers and frees you from the chains in your mind that keep you from living a full, thriving life.Amethyst is a mental health game-changer. The moment anxious and intrusive energy enters the body, Amethyst deactivates the crippling effects of stress and fear. By activating the third-eye chakra, Amethyst aligns you with total peace and gives you the power to see beyond temporary emotions.Rose Quartz is a weighted blanket in crystal form. It soothes the heart and mind and pairs perfectly with positive, self-love affirmations. Erase negative self-talk and restore your belief in yourself with this loving reminder that you can overcome anything.Aquamarine is a balancing stone of mental peace that holds your hand when life feels like you're walking a tightrope. Aquamarine absorbs growing pains during difficult life lessons and encourages you to focus on your goals and values without getting distracted by drama.Waiting for grey skies to clear? Fluorite brings back sunny days with its heavenly optimism and ability. This tension tonic melts the pressure always to have life in order and helps you embrace and be grateful for how things are, even when they're not perfect.This set resonates well with Aquarius. This sign relies on their cognitive freedom and must make their minds safe to explore.Affirmation: "My mind is a strong fortress of peace, patience, and pure love."How to wear:Layer this healing stack on your left wrist to overcome stress, anxiety, fear, and panic. Layer them on the right wrist to boost resilience, focus, mental fortitude, and ultimate brainpower. Divide and conquer by splitting the set wearing half on each wrist to embody the complete spectrum of powerful spiritual properties.Pairs well with:I am Safe: Anti-Anxiety Malachite Tree LampSoulful Celebration - Earrings of Joy (2 sets)In differences lies beauty. Every stone is natural and hand-selected, making each set unique and personal to the wearer.
What's the best crystal for me?
You are only few answers away from finding out which crystal is best suited for your life's journey ✨
Conscious Rewards
Start earning points every time you shop, share or visit us to get exclusive discounts and offers
Give 30% off, get 1200 points
Give friends 30% off their first order, and you'll get 1200 reward points. It's a win-win!
100% Real Stones
We only sell the highest quality products made from genuine stones.
Secure Ordering
Guaranteed safe checkout through all major credit cards or Paypal
Happiness Guarantee
Unhappy with your order? Let us know within 60 days and we'll take it back and refund you the cost!