Free shipping on orders over $75
FREE SHIPPING OVER $89 USD
Showing 2 products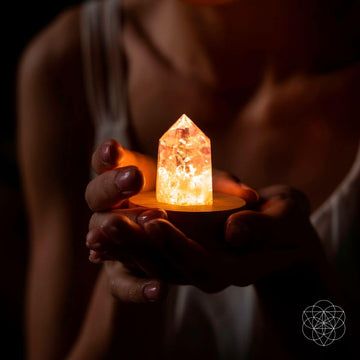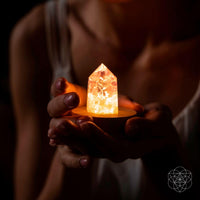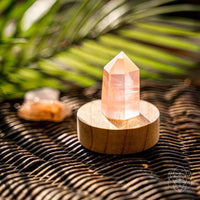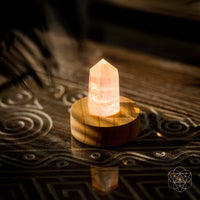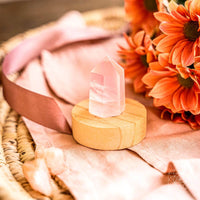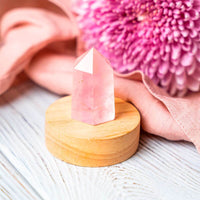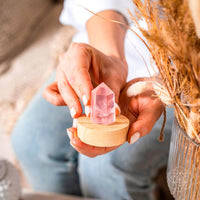 The Love Lamp
Compassion • Forgiveness • Unconditional Love
or $9.99 every 2 weeks. Interest-free
True love goes far deeper than just romance. But it always starts with yourself. Rose Quartz instills the belief that you must love yourself before you can truly experience love from another.  Activating the heart chakra, Rose Quartz is easily the best crystal for anything relating to love. Its vibration is so high that you can feel its energy just from being nearby. With the Love Lamp, Rose Quartz's energy ripples around the room in the form of light. It promotes feelings of compassion and generosity, unlocking the capacity for unconditional love. However, it reminds you—in no uncertain terms—that 'unconditional' does not mean you're okay with being walked all over. It helps you create boundaries that are under your control. Rose Quartz is also the ideal choice for those recovering from heartbreak. It helps you forgive yourself and your old partner for whatever happened. It's in the past now, and the light of the Love Lamp helps you move on. Get the heart-healing Love Lamp for your bedroom. How to use this lamp:Place the Love Lamp on your bedside table to prep your heart for a soulmate encounter. Let its warm energy wash over you every night and reinvigorate you every morning. The lamp doesn't need to be switched on for you to receive the benefits of Rose Quartz. Treat it like you would a crystal point.As Rose Quartz is a natural stone, the colors may vary slightly from stone to stone, making each one utterly unique.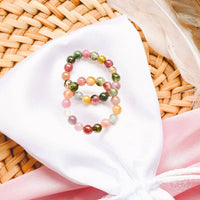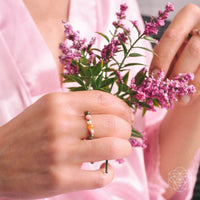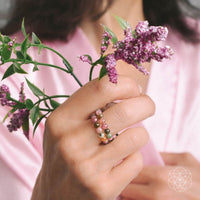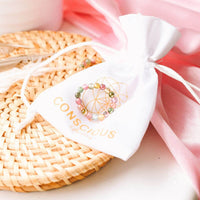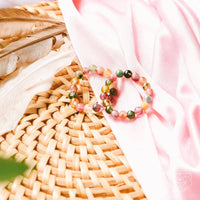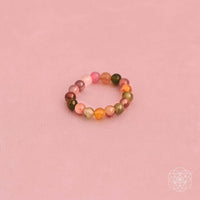 Worry-Free Ring Set
Happiness • Harmony • Calmness
Worry is not always a bad thing. It can help us plan better for the future and appreciate the good things we have in life. But only a pinch of worry at a time is needed. The rest of your days? We'd love for them to be worry-free! That's why we crafted this 2-piece set of identical rings.  Tourmaline is a stone of happiness, both spiritually and emotionally. It comforts you in times of need so you can think clearly without being clouded by doubt. Filled with compassion, it will help you think of others when making big decisions. Let it restore healing energy in your body so you can plan for the future with eyes filled with wonder and excitement! Plus, the bright and juvenile colors of these rings are pleasant to look at. Let them cheer you up in an instant!How to use: Wear the 2 rings together and let your worries melt away, or give one ring to your friend/partner & keep one for yourself when you want to stay connected. Affirmation: "The future will bring me what I need when I need it. I will let go of controlling that.As Tourmaline is a natural stone, the colors may vary slightly from stone to stone, making each one utterly unique.
What's the best crystal for me?
You are only few answers away from finding out which crystal is best suited for your life's journey ✨
Conscious Rewards
Start earning points every time you shop, share or visit us to get exclusive discounts and offers
Give 30% off, get 1200 points
Give friends 30% off their first order, and you'll get 1200 reward points. It's a win-win!
100% Real Stones
We only sell the highest quality products made from genuine stones.
Secure Ordering
Guaranteed safe checkout through all major credit cards or Paypal
Happiness Guarantee
Unhappy with your order? Let us know within 60 days and we'll take it back and refund you the cost!