Free shipping on orders over $75
FREE US SHIPPING OVER $79 USD
Showing 3 products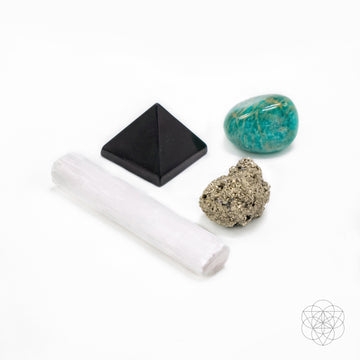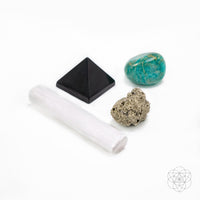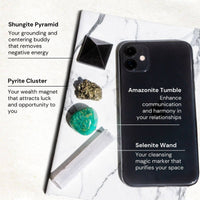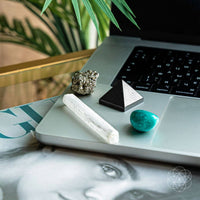 The Workspace Protection Crystal Kit
Productivity • EMF Protection • Abundance
or $9.99 every 2 weeks. Interest-free
Whether you're working from the office or from home, protecting your energy while you work is essential. The Workspace Protection Crystal Kit is designed for you to be able to optimize your work environment and stay focused, productive, and inspired during work hours. Guard yourself from the harmful EMF radiation emitted by your devices. The kit includes a Selenite wand for dispelling negative energy; a hand-cut Shungite pyramid for absorbing EMF radiation and shielding you from the harmful effects of your technological devices (including 5G!); a raw Pyrite crystal for a much-needed energetic boost and a healthy dose of self-confidence; and finally, a tumbled Amazonite stone for soothing your energy and helping you navigate conflicts at work with tact.These are some of the best crystals to use in the workspace because of their combined power to shield you from toxic vibes, attract wealth, and turbocharge your creativity and concentration.Use this set to tap into your ambition and elevate the energy of your workplace, wherever it may be.How to use these stones:Before  starting work, use the Selenite wand to clear your environment and cast away any negative vibes. Keep the raw Pyrite crystal on your desk to consistently raise your vibration. Hold the Amazonite stone if you find yourself getting stressed or overwhelmed. Leave the Shungite pyramid on top of your laptop, or beside your electronic devices, when you're finished for the day – this will protect you from the harmful effects of EMF radiation.Since the set is made from natural stones, the colors may vary slightly from stone to stone, making each one utterly unique.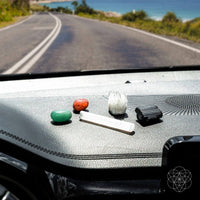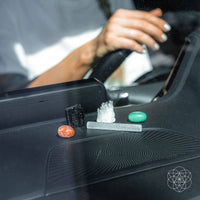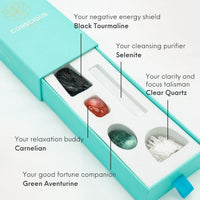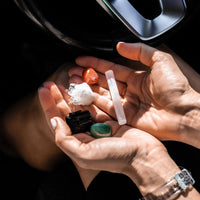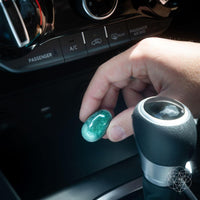 The Car Protection Crystal Kit
Crystal Bodyguards • Protection • Positive Energy
or $9.99 every 2 weeks. Interest-free
Are you looking for crystals to keep your energy protected during car journeys? You're in luck. We've brought together 5 must-have car protection crystals in one extraordinary healing kit.By introducing powerful cleansing crystals into your driving routine, you can banish negative energy and enjoy every mile of the journey. These energy-shielding gemstones will maximize your protection by elevating the frequency of your entire vehicle. Wave goodbye to road rage.Black Tourmaline defends the energy of those in your car, while Selenite ensures it maintains a high vibration. Clear Quartz invites clarity and positive energy into your vehicle, and Carnelian grounds you in the physical act of driving, enabling you to relax. Meanwhile Green Aventurine enhances luck and helps you feel more at ease when you hit the road. Whether you're a driver or passenger, the road has never felt so liberating. How to use these crystals:Place the crystals in your car at least 12 hours prior to your journey – this is so the stones have time to absorb the negative energy inside. More specifically: place Black Tourmaline on the driver's seat, Clear Quartz on the passenger's seat, Carnelian in between the front seats, Selenite against the CD player, and Green Aventurine in the small storage space in the middle. This powerful combination will protect the driver from bad energies, accidents, and breakdowns. Since the set is made from natural stones, the colors may vary slightly from stone to stone, making each one utterly unique.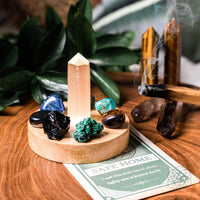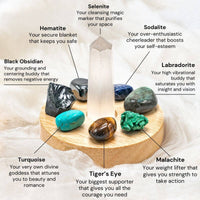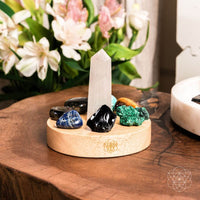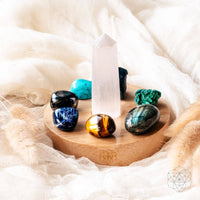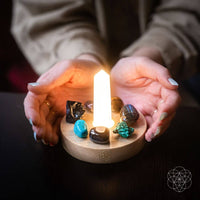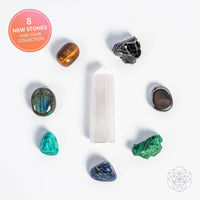 The Sacred Protection Lamp
Energy shielding • Heart Healers • Stress relief
or $14.99 every 2 weeks. Interest-free
Thoughtfully designed to diminish bad vibes around your home, these powerful protection crystals cover all angles when it comes to energy defense. These gemstones have an anti-negativity forcefield that extends around you and your home, helping you release blocked energy and extinguish the effects of EMF radiation.Light up your room with the powerful cleansing energy of a Selenite crystal point. It eliminates negative energy and purifies your space. Black Obsidian, the Guardian Stone, helps you realize where you've been subconsciously absorbing negative energy and gives you the strength to consciously stop it. Labradorite helps you cast off negative thoughts, while Hematite unlocks the root chakra and grounds your energy. Malachite bolsters your inner strength and activates the heart chakra, while Turquoise helps you find self-acceptance and articulate yourself in a way that can't be misunderstood. Tiger's Eye protects you from the evil eye and boosts your self-esteem, whereas Sodalite blocks EMF radiation and soothes insomnia. These 8 powerful gemstones, combined with the sacred geometry of the golden mandala engraved into the base of the lamp, make this soft light the perfect protection piece for beginners and experts alike. How to use this lamp:Attach the lamp to a power outlet and turn it on for the warm light to work its magic. The stones can be left on the lamp – they will work regardless of whether the lamp is switched on or off – or you can use them to form galvanizing crystal grids, profound meditations, or any other spiritual practice of your desire. As the stones are natural, the colors may vary slightly from stone to stone, making each one utterly unique.
What's the best crystal for me?
You are only few answers away from finding out which crystal is best suited for your life's journey ✨
Conscious Rewards
Start earning points every time you shop, share or visit us to get exclusive discounts and offers
Give 30% off, get 1200 points
Give friends 30% off their first order, and you'll get 1200 reward points. It's a win-win!
100% Real Stones
We only sell the highest quality products made from genuine stones.
Secure Ordering
Guaranteed safe checkout through all major credit cards or Paypal
Happiness Guarantee
Unhappy with your order? Let us know within 60 days and we'll take it back and refund you the cost!