Free shipping on orders over $75
FREE US SHIPPING OVER $79 USD
Showing 2 products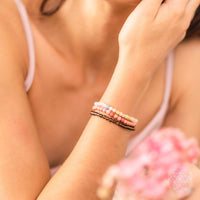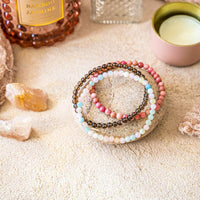 The Calm Nature Bracelet Set
Emotional Control • Tranquility • Inner Peace
or $9.99 every 2 weeks. Interest-free
In times of intense stress, we can let our emotions get the better of us. We might lash out at somebody we love, get angry at something insignificant, or keep ourselves up at night in a stormy sea of thoughts. The Calm Nature Bracelets are designed to bring you back to your true self—that inner peace that lingers beyond space and silence.Rhodonite is the crystal used for the first bracelet. It's a brilliant stone for compassion and balancing emotions. Known for its ability to heal old wounds, it patches up emotional scars from the past and helps you release any pent up feelings in no time. It's a heart-healing crystal that encourages you to strive toward your full potential.Smoky Quartz is the fear-busting stone used in the second bracelet. You can't help but smile while wearing it; it neutralizes negativity and stops it from spreading. It can lift you from the darkest of slumps with its vibrant energy and melt stress away as if it were never there. Worries of the future and regrets of the past all fall down too. They are irrelevant. What matters is the here and now.The third bracelet uses a combination of Morganite and Aquamarine. The first crystal connects the mind, body and soul, flooding you with loving energy. Its uplifting aura brings a sense of joy and inner peace, returning you to the natural state of being. Aquamarine, on the other hand, washes tension away like the gentle waves of the ocean. It soothes your energy and helps you find your chill.Access the true peace within.Affirmations: Recite affirmations that help you work through your emotions, such as, "I allow myself to feel whatever comes up, and release it without judgment."As the jewelry set is made of natural stones, the colors may vary slightly from stone to stone, making each one utterly unique.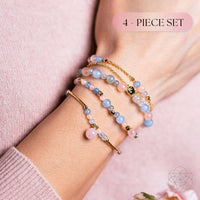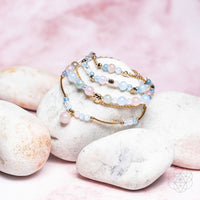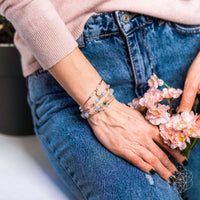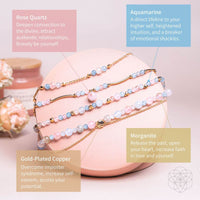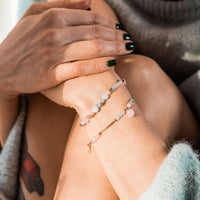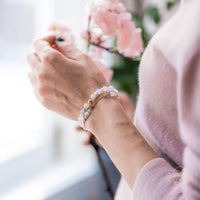 The Quintessential Divine Truth Bracelet Set
Heightened Intuition • Courage • Compassion
or $19.99 every 2 weeks. Interest-free
Let your spirit soar to its full potential with this exclusive bracelet set. Graced with three supreme stones — Aquamarine, Morganite and Rose Quartz — this set guides you on the path to inner transformation and deeper enlightenment.An ancient stone of courage, Aquamarine helps to sharpen your intuition, calm the mind, and break the chains of old, self-defeating habits. It clears confusion and filters unimportant thoughts, so you can focus on what matters most. With the mind tended, the focus then shifts to the heart. A gentle yet powerful stone, Morganite cleanses the heart chakra, allowing you to recognize unmet needs and unexpressed feelings. This, in turn, helps reveal your inner truth and illuminate your intended pathway.The final stone brings love and compassion to your journey. Acting as a guide to help deepen your relationships, embrace compassion, and love yourself and others, Rose Quartz is a powerful stone of spiritual growth. With it, you'll find that love is all around.Placing these three stones together not only creates an opulent bracelet set, but their divine energies become enhanced, keeping your vibrations high. Wear this spiritual treasure, and you'll gain the greatest gift of all — trust in yourself.Affirmation: "I believe in my path and myself."In differences lies beauty. Every stone is natural and hand-selected, making each set unique and personal to the wearer.
What's the best crystal for me?
You are only few answers away from finding out which crystal is best suited for your life's journey ✨
Conscious Rewards
Start earning points every time you shop, share or visit us to get exclusive discounts and offers
Give 30% off, get 1200 points
Give friends 30% off their first order, and you'll get 1200 reward points. It's a win-win!
100% Real Stones
We only sell the highest quality products made from genuine stones.
Secure Ordering
Guaranteed safe checkout through all major credit cards or Paypal
Happiness Guarantee
Unhappy with your order? Let us know within 60 days and we'll take it back and refund you the cost!