Free shipping on orders over $75
FREE SHIPPING OVER $89 USD
Showing 1 products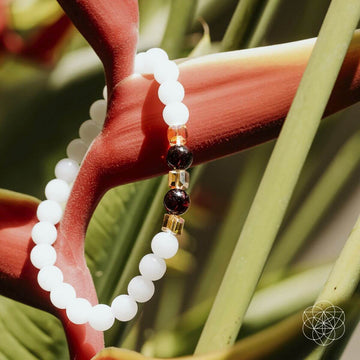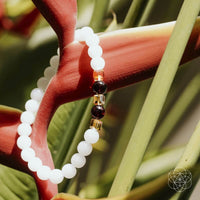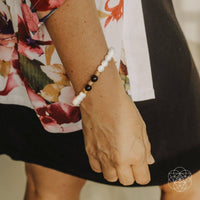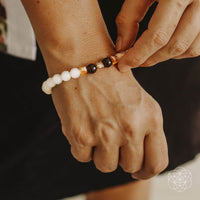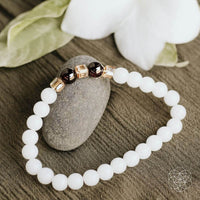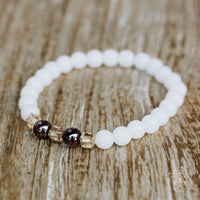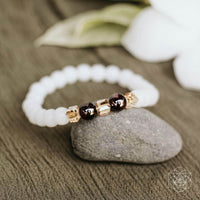 The Happiness Bracelet
Prosperity • Abundance • Harmony
Going through a slump? Your goals are slipping through your fingers and deadlines are whizzing by in the blink of an eye... It happens to all of us when negative energy attaches itself to our auras. It's a good job we have crystals that reverse the effect. White Jade is a gorgeous stone that removes energy blockages in your aura and ensures your chakras are aligned and connected. It liberates negative energy that's stuck in your nervous system. A great stone for reducing the effects of stress, White Jade empowers you to feel more relaxed during overwhelming periods of life. It prevents bad trains of thought and allows you to think clearly again rather than dwell on negative emotions. The partner stone on this bracelet, Garnet, is a stone for passion. It raises your frequency to a level that inspires happiness, amazing for those that want to regain self-confidence. A stone of love, you simply can't be unhappy when your energy reaches the frequency of Garnet.You are in control of your own happiness. Affirmation: Use mantras that raise your energy such as "Suffering is temporary and I'm getting better every day." Since the bracelet is made of natural stones, the colors may vary slightly from stone to stone, making each one utterly unique.
What's the best crystal for me?
You are only few answers away from finding out which crystal is best suited for your life's journey ✨
Conscious Rewards
Start earning points every time you shop, share or visit us to get exclusive discounts and offers
Give 30% off, get 1200 points
Give friends 30% off their first order, and you'll get 1200 reward points. It's a win-win!
100% Real Stones
We only sell the highest quality products made from genuine stones.
Secure Ordering
Guaranteed safe checkout through all major credit cards or Paypal
Happiness Guarantee
Unhappy with your order? Let us know within 60 days and we'll take it back and refund you the cost!