Free shipping on orders over $75
FREE US SHIPPING OVER $79 USD
Showing 2 products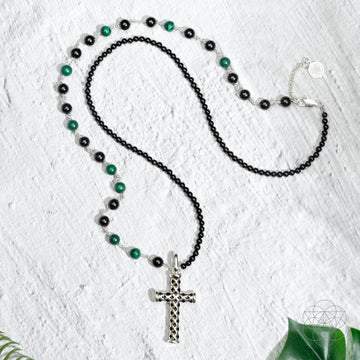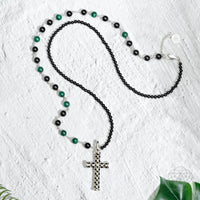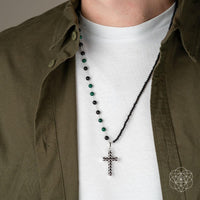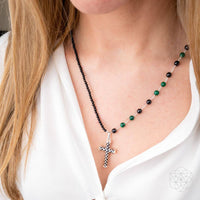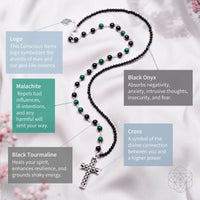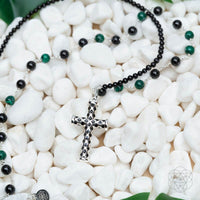 Higher Calling Cross: Pendant of Faith & Purpose
Energy Shield • Personal Power • Inner Strength
or $12.49 every 2 weeks. Interest-free
Restore faith in yourself and have full access to your highest power! With the help of Black Onyx, Malachite, Black Tourmaline, and the sanctity of a Cross, it's time to pursue your dreams fearlessly and attract a life of fulfillment.The Cross Pendant is known for its representation of the passion of Christ and bestows you with the same relentless dedication and reverence for your higher calling. Wear it to bravely facedown challenges, overcome setbacks, and live up to your potential.The responsibility of pursuing your life purpose brings plenty of stress. Fortunately, Black Onyx absorbs negativity, anxiety, insecurity, and fear. As a spiritual ally, Black Onyx also attracts fortune, luck, and opportunity.For added safekeeping, Malachite repels any ill intentions sent your way and stops rumors in their tracks. This green beauty encourages you to take the road less traveled and to be patient with your progress, urging you to take one bold step at a time despite what others think or say.Confidently live life on your own terms with Black Tourmaline. Offering you direct access to divine strength, courage, peace, and stillness in times of uncertainty, doubt, and insecurity, tourmaline serves as your faithful crystal sidekick.Affirmation: "I am grounded in my divinity and steadfast in my purpose to serve the greater good of everyone."How to wear:Finally a necklace with stylish options . The removable cross pendant can be worn on other necklaces and makes the perfect addition to this crystal chain. Remove the cross for a clean and simple look that allows the crystals' deep, rich colors to come front and center. Leave it as is for a magnetizing statement piece or perfect decorative layer.Pairs well with:Negativity Banisher Bracelet SetAura Armor - Onyx Ring of ProtectionIn differences lies beauty. Every stone is natural and hand-selected, making each necklace unique.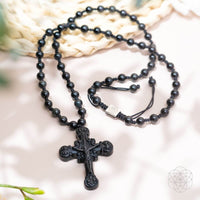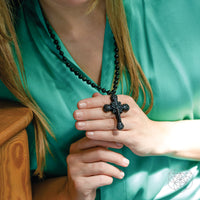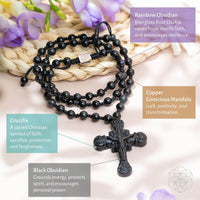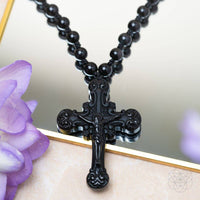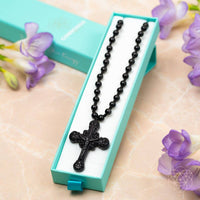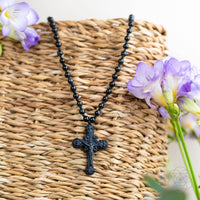 Sacred Armor: Black Obsidian Cross of Faith & Protection
Faith Restoration • Holy Protection • Purity
or $12.49 every 2 weeks. Interest-free
Upholding the most powerful symbol of sacrifice is the redeeming power of the Obsidan Crucifix. Bear this totem of faith to empower your beliefs and embrace all the divine powers that protect your spirit and energy.The necklace is curated from tumbled Rainbow Obsidian, a sacred stone that perfectly embodies the power of purpose. Despite the resistance and suffering you may face, Rainbow Obsidian keeps you grounded in faith to remain steadfast and aligned with your soul's calling. This Root Chakra stone creates an energetic bridge between dark and light, good and evil. Use it to return to your faith when you go astray, in times of fear and doubt, and when you may feel lost. The Black Obsidian Crucifix shares the properties of the rainbow obsidian with a deeper power to cleanse, heal, restore, and protect your spirit. When you're overcome with doubt, limiting belief, fear, addiction, self-sabotage, and mental suffering, the Crucifix calls your angels to encourage you, balance your mood, and ease your mind.The Copper Conscious Items charm holds the adjusting tie for fitting and is the perfect finish to this sacred piece. The mandala symbol perfectly reflects the transformation of the soul when we choose faith over fear and trust over doubt.Affirmations: "I am grounded in faith and have trust in my purpose.""I am divinely protected and spiritually guided."How to wear:This unisex pendant of faith can be worn as a long necklace or fitted piece using the versatile clasp. By pulling the rope just beside the copper Conscious Items logo, you can adjust the length for the perfect fit.In differences lies beauty. Every stone is natural and hand-selected, making each necklace unique and personal to the wearer.
What's the best crystal for me?
You are only few answers away from finding out which crystal is best suited for your life's journey ✨
Conscious Rewards
Start earning points every time you shop, share or visit us to get exclusive discounts and offers
Give 30% off, get 1200 points
Give friends 30% off their first order, and you'll get 1200 reward points. It's a win-win!
100% Real Stones
We only sell the highest quality products made from genuine stones.
Secure Ordering
Guaranteed safe checkout through all major credit cards or Paypal
Happiness Guarantee
Unhappy with your order? Let us know within 60 days and we'll take it back and refund you the cost!