Free shipping on orders over $75
FREE SHIPPING OVER $89 USD
Showing 2 products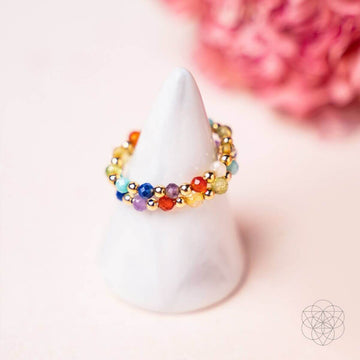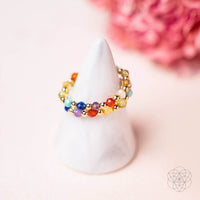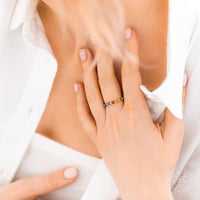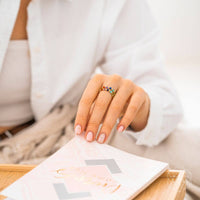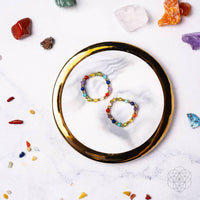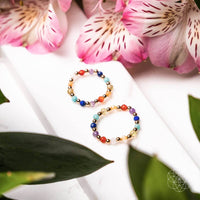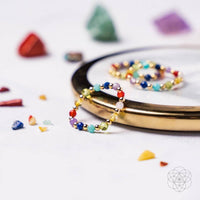 The Rainbow Freedom Rings
Success • Stress Relief • Peace
This wonderful collection of crystals work together to produce the perfect potion for you to have more freedom: freedom from stress, freedom from self-doubt, and more freedom to choose what you need in life.Amazonite: A bright sea blue stone aligned with the heart and throat chakras. It sends peace and stress-free vibes your way.Rose Quartz: The pink beauty is extremely attuned with the heart chakra. It invites nurturing harmony and self-love.Amethyst: The purple stone opens the third eye and crown chakra, allowing you to connect with your intuition.Olivine: Also called Peridot, this olive-hued gem works perfectly with the other stones in the ring to align chakras. It will invite abundance into your soul.Lapis Lazuli: The bright blue stone removes negative energy and brings peace, health and wellness.Citrine: The yellow-hued stone is a happiness producer connected to the solar plexus chakra.Red Agate: The fiery red stone promotes wealth, love and success.This dainty, feminine ring has gold-colored beads in between each crystal. It's perfect and flexible enough to sit on any finger of your choice. Affirmation: "I have the freedom to choose." As the rings are made of natural stones, the colors may vary slightly from stone to stone, making each one utterly unique.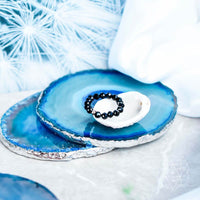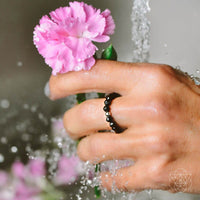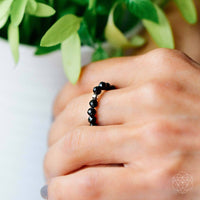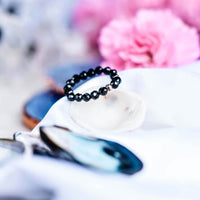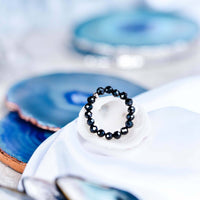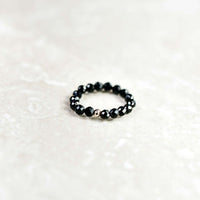 The Spiritual Grounding Ring
Protection • Support • Courage
Ever feel like you're lost in the wind? You can't seem to fix your feet firmly on the ground? Well, it's a good job Black Agate is around to anchor you down.Like the majority of black stones, Black Agate provides protection and grounding in reality. It brings with it calming energy that promotes peace, especially in stressful households where the energy is almost tangible. This smooth black gemstone absorbs negative energy, draining it from your aura and encouraging you to sustain a positive mind-state. A stone of balance ensures that equilibrium is restored and your yin and yang energies are in harmony with one another. This ring streamlines your energy from root to crown in order for you to fully feel the confidence and inner strength of somebody who's found their feet. Root yourself in reality.Affirmation: Use grounding affirmations such as "I am alert in the present moment," to increase the effect. As Black Agate is a natural stone, the colors may vary slightly from stone to stone, making each one utterly unique. 
What's the best crystal for me?
You are only few answers away from finding out which crystal is best suited for your life's journey ✨
Conscious Rewards
Start earning points every time you shop, share or visit us to get exclusive discounts and offers
Give 30% off, get 1200 points
Give friends 30% off their first order, and you'll get 1200 reward points. It's a win-win!
100% Real Stones
We only sell the highest quality products made from genuine stones.
Secure Ordering
Guaranteed safe checkout through all major credit cards or Paypal
Happiness Guarantee
Unhappy with your order? Let us know within 60 days and we'll take it back and refund you the cost!