Free shipping on orders over $75
FREE SHIPPING OVER $89 USD
Showing 3 products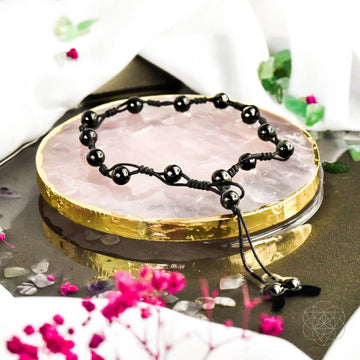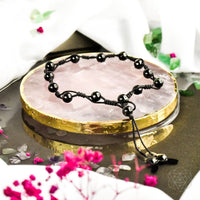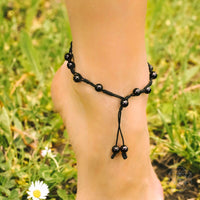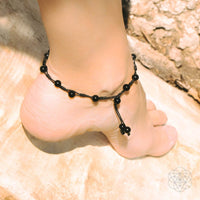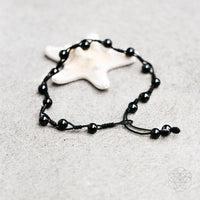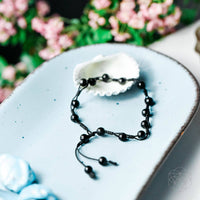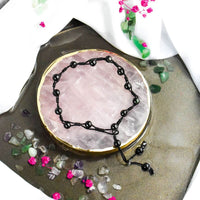 Obsidian Grounding Anklet
Protection • Cleansing • Focus
In times of unprecedented change and uncertainty, the Rainbow Obsidian anklet offers a grounding presence, helping you stay centered and focused on the present moment, rather than getting caught up in global anxiety.Rainbow Obsidian, as you can tell by the name, is a stone of radiance. It floods you with feelings of warmth, joy, and love, regardless of what's going on around you. It's one of the best protectors against negative energy—it simply doesn't allow it to penetrate your aura. There's no use in worrying over something you can't control—it only builds up negativity that can be difficult to release without cutting the root cause. Focus on yourself, your health, and your happiness. Compassion is important, but not enough to ignore your own needs.The Obsidian anklet, with its sleek and polished finish, offers a stylish way to accessorize while providing a gentle reminder to pause and breathe. Its elegant appearance and smooth texture are often associated with a sense of calmness, making it a popular choice for those seeking a moment of peace in their busy lives. Root down and stay energetically protected. Affirmation: Use the power of affirmations to defend your energy even more: "My aura is safe and protected."As Obsidian is a natural stone, the colors may vary slightly from stone to stone, making each one utterly unique.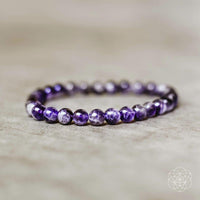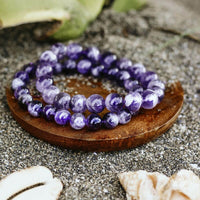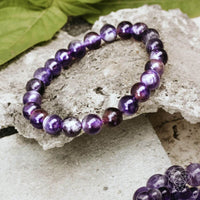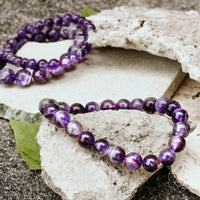 The Purification Bracelet
Emotional Protection • Spirituality • Peace
Choose bead size
0.31" (8 mm)
0.23" (6 mm)
0.39" (10 mm)
Are you in need of a little spiritual cleansing? Feel the negativity weighing you down recently? Amethyst is the perfect stone for protection against negative energy.Known as nature's tranquilizer, Amethyst is the stone to use to return to a state of calm, peace, and serenity. It removes the negative energy from your aura and replaces it with contentment that's difficult to find elsewhere. Protecting you from future negativity as well, it's a great crystal bodyguard to have on your wrist. Excellent in removing negative thoughts, you'll be feeling better in no time. Most negative thoughts crash through your mind one after the other like the domino effect, but Amethyst removes the cause, preventing the first domino from falling. A popular meditation stone, it helps purify the aura by neutralizing the crown chakra. Speak to your higher consciousness and ground yourself in the present.Say no to negativity.Affirmations: Use positive and uplifting affirmations such as "My energy is safe and protected" or "I am glowing with positivity" to enhance the stone's effects. As Amethyst is a natural stone, the colors may vary slightly from stone to stone, making each one utterly unique.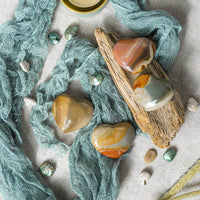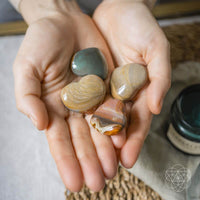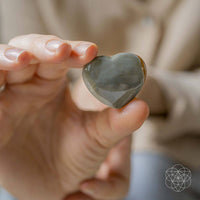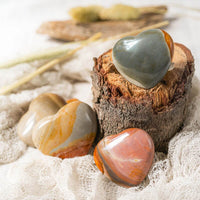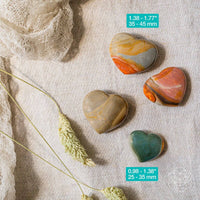 The Self-Healing Heart
Love • Support • Positivity
Choose size
Small ( 0.98 - 1.38" / 25 - 35 mm)
Large ( 1.38 - 1.77" / 35 - 45 mm)
Ever wondered how miraculous healings occur? There's no such thing as a miracle—it all depends on how you program your mind. The Self-Healing Hearts tune your frequency into the vibration of healing and infinite loveOcean Jasper opens the heart chakra and allows love to flow from within. It streamlines the chakras so that your inner energy is freed up and can be put to use elsewhere. Gradually, you'll let go of any withheld tension or pent-up anger. This is a key step in the healing process.Agate is a specialist at healing emotional traumas. It takes you back to the root cause and helps you overcome your inner demons. The positive vibrations of Agate can be channeled towards healing oneself. You can reach deep levels of meditation with this stone, even accessing the akashic records if you're in the right mindset.Unlock the power of Self-Healing.How to use these stones:These hearts are fantastic for meditation. Hold one in your hands and focus on its energy. Let it draw out your negativity without doubts. Over-eagerness can disrupt the energy transfer too, so try to relax. When your mind is in a more sleepy state -- a state without thoughts -- begin to suggest thoughts of perfect health. These will be amplified by the energy of the hearts. Your subconscious mind is very easily swayed and this state is perfect for activating the infinite intelligence within you. As the stones are natural, the colors may vary slightly from stone to stone, making each one utterly unique.
What's the best crystal for me?
You are only few answers away from finding out which crystal is best suited for your life's journey ✨
Conscious Rewards
Start earning points every time you shop, share or visit us to get exclusive discounts and offers
Give 30% off, get 1200 points
Give friends 30% off their first order, and you'll get 1200 reward points. It's a win-win!
100% Real Stones
We only sell the highest quality products made from genuine stones.
Secure Ordering
Guaranteed safe checkout through all major credit cards or Paypal
Happiness Guarantee
Unhappy with your order? Let us know within 60 days and we'll take it back and refund you the cost!