TODAY'S OFFER: BUY 2, GET 1 FREE
The Self-Control Pendant
Blessings • Decision Making • Positivism
The Self-Control Pendant
Blessings • Decision Making • Positivism
Easy
30 days Returns
30 Days
Money Back Guarantee
Crystal Authenticity Guarantee
Don't let emotions dictate your actions. This pretty pendant can help keep you centered, even in times of stress. Bring back the element of self-control!
Purple Fluorite
is a peaceful stone. Its calm vibrations bring your mood to a place of happiness. It helps increase mental activity, encouraging thoughtful decision making in your day to day life. This is a fantastic stone to use if you're experiencing spiritual discomfort or too much stress around the house. Relax, take a deep breath, and use Purple Fluorite to guide you back to what's important. 
When you have many thoughts passing through your mind at the same time, Amethyst helps soothe your mind so that you can slow down, prioritize, and focus on one thing at a time. It encourages inner peace that empowers you to be less swayed by your emotions and more composed instead.


Opal is a stone that's all about self-worth. It's a real go-getter with enthusiasm to match! Express yourself truly and let your creative and artistic ideas flow. You have so much power, and with these three stones, you can take the reins once and for all. 

Be the driver of your life's journey!
Affirmation
: Use confidence-enhancing affirmations such as
"I am in control of my life"
to constantly remind yourself of your power.
Product details:

Item type: pendant
Material: Purple Fluorite, Amethyst, Opal, copper
Color: transparent, violet
Dimensions:
Size: 0.78 x 2.16 in (20 x 55 mm)
Weight: 0.7 oz (20 g)

Note: Necklace not included.

As Fluorite is a natural stone, the colors may vary slightly from stone to stone, making each one utterly unique.
Customer Reviews
11/23/2020
Marcia S.
United States
I recommend this product
Self control necklace
I was pleasantly surprised at the quality of this necklace. It looks much more expensive and I get tons of compliments on it! I ordered two more to have as gifts and had the perfect gift on hand for a friends birthday who had admired it.
Was so excited to get this in the mail. I held it and meditated. I put it back in the box, as I sill have to order a chain. Went back to it a few hours later to show my mom and it had busted into two pieces. A small chunk and dust still lay on the back velvet of the box, from it breaking. My mother told me I had "bad ju-ju"!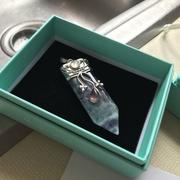 I am loving my necklace! Best company to purchase these items from. Awesome people!
You are in safe hands
100% real stones
We only sell the highest quality products made from genuine stones. This is guaranteed or you can have your money back!
SECURE ORDERING
Guaranteed safe checkout through all major credit cards or Paypal
Happiness Guarantee
Unhappy with your order? Let us know within 30 days and we'll take it back and refund you the cost!