Free shipping on orders over $75
FREE US SHIPPING OVER $79 USD
Showing 1 products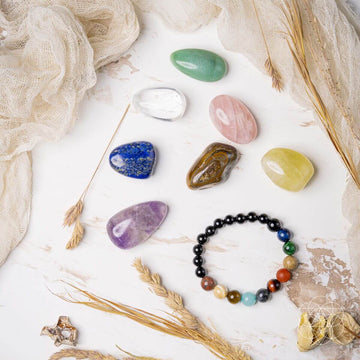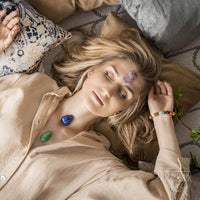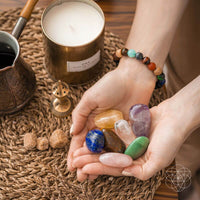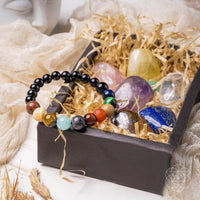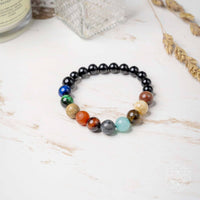 The Solar System Stones & Bracelet Set
Balance • Infinity • Stability
or $12.49 every 2 weeks. Interest-free
Spiritual alignment is both extremely personal and infinitely cosmic by its very nature. As above, so below; the entire universe is accessible through your mind. This bracelet and stones set aims to ensure perfect harmony and balance between your inner self and the universe as a whole.Clear Quartz is capable of storing the energy of the Sun. It acts as a conduit between you and the immense healing energy of our star. It strengthens, heals and purifies the body, stimulating brain function and aligning the mind, body and spirit. Rose Quartz is symbolic of the Moon. It helps us get in touch with our inner world and heightens love, compassion and peace. It deepens our emotional understanding and allows us to sensually experience the full scope of love.Lapis Lazuli is a mirror for the planet Mercury. It empowers you to articulate yourself succinctly, wielding truth with great dexterity. It encourages you to reflect on your actions and find a creative outlet to express yourself more deeply.Green Aventurine shares similarities with the planet of love, Venus. They both direct energy towards beauty, sensuality and art. This crystal calms you down during highly emotional times, reducing stress and negativity. It restores faith in yourself and others. Citrine is the harbinger of Mars's energy. It's associated with courage, will and magnetism. The yellow gemstone awakens optimism, joy and passion in life and promotes strong, positive actions.Amethyst is the crystal reflection of Jupiter's knowledge, spirituality and wisdom. The biggest planet in our solar system is a teacher, encouraging us to broaden our horizons. There's joy to be found in the stirring of intuition and all that it brings. Harmonize the mind and spirit by keeping them in perfect orbit.Tiger's Eye represents the stricter teacher, Saturn. This planet's energy, channelled through Tiger's Eye, promotes discipline, self-control and responsibility. This planet tests our resolve based on how we deal with difficulties. Its supporting crystal gives us the strength to persevere, to not be afraid to let go of the past, and to embrace change.On the solar system bracelet, there are 10 fantastic stones that you can keep on your person at all times. Where the celestial stones heal your inner energy, the bracelet amplifies your outer energy. There are four types of Tiger's Eye: natural, red, green and blue. These enable you to release the fear of failure. Remember to shoot for the moon. Even if you miss, you'll be among the stars.Red Agate, Red Jasper, Larvikite and Black Onyx are all intense grounding stones, reconnecting you to the cosmic beauty of nature. They absorb negativity and encourage a positive mindset. Keep your eyes on the stars, but keep your feet firmly on the ground. Yellow Jasper, Sunstone and Aquamarine are the soothers—the calming crystals that help you discover inner peace. If things seem bleak, these crystals will help you relax. It's worth remembering that only in times of darkness do the stars become visible. Bring your energy into complete and utter harmony with a whopping 17 stones!How to use itLet your intuition guide you to the stone that you need most at this time. Hold it periodically throughout the day and focus your attention on its energy. Feel free to mix and match or even create a crystal grid with all seven stones. While wearing the bracelet, you can recite mantras for balance: "My energy is in harmony with that of the universe."As the jewelry set is made of natural stones, the colors may vary slightly from stone to stone, making each one utterly unique.
What's the best crystal for me?
You are only few answers away from finding out which crystal is best suited for your life's journey ✨
Conscious Rewards
Start earning points every time you shop, share or visit us to get exclusive discounts and offers
Give 30% off, get 1200 points
Give friends 30% off their first order, and you'll get 1200 reward points. It's a win-win!
100% Real Stones
We only sell the highest quality products made from genuine stones.
Secure Ordering
Guaranteed safe checkout through all major credit cards or Paypal
Happiness Guarantee
Unhappy with your order? Let us know within 60 days and we'll take it back and refund you the cost!