Free shipping on orders over $75
FREE US SHIPPING OVER $79 USD
Showing 26 products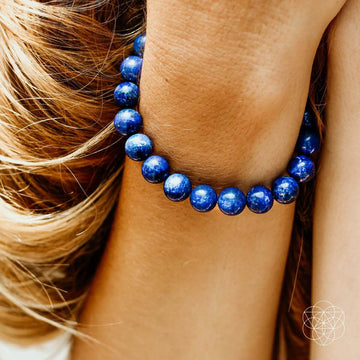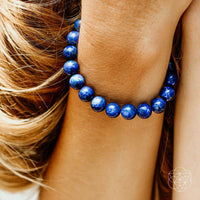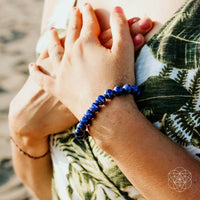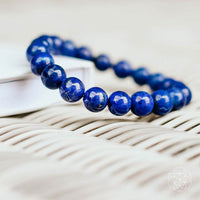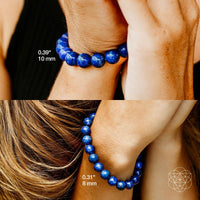 The Blue Focus Bracelet
Self-Awareness • Mental Strength • Prosperity
Choose bead size:
0.31" (8 mm)
0.39" (10 mm)
It's so easy to get distracted nowadays. Luckily, The Blue Focus Bracelet empowers you to concentrate and digest complex information and dramatically improve your understanding of it. Lapis Lazuli, one of the most prized crystals since antiquity, is the perfect stone to help you focus. It's excellent at igniting the spark that helps you solve difficult problems with ease. Aiding the learning process, this beautiful gemstone enables you to expand your self-awareness and learn more about yourself, too. When you wear this nebula blue crystal in jewelry, it encourages self-expression and enables you to release inhibitions. Inspiring wisdom and good judgment, it's no wonder it's a fantastic stone for sharpening focus.Stay on task and let your thirst for knowledge blossom.Affirmations: Say simple but powerful mantras such as "I am focused" or "I am ready to learn" to enhance its effects. As Lapis Lazuli is a natural stone, the colors may vary slightly from stone to stone, making each one utterly unique.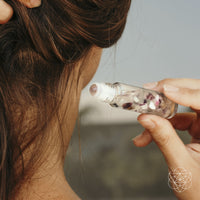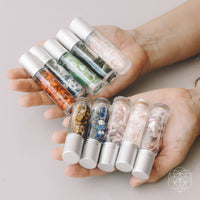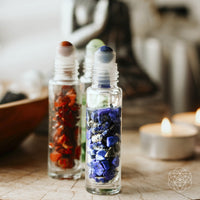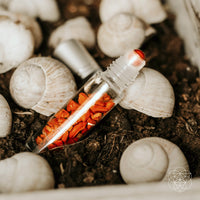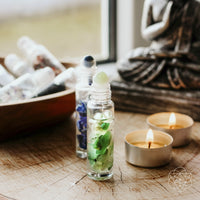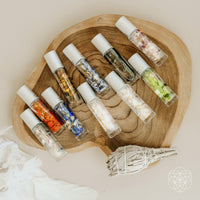 Crystal Energies - Essential Oil Roller Bottle Set
Energy Flow • Protection • Relax
or $9.99 every 2 weeks. Interest-free
When low on energy, we snap at people and have negative thoughts and emotions to match. We've all been there. But how you respond to such feelings is much more important. You won't find a more natural way to elevate your energy than with crystals and essential oils. There are countless combinations that bring with them a whole range of benefits. Green Aventurine is a stone of wealth and prosperity. To encourage abundance, match it with geranium, bergamot, and neroli. Black Obsidian is an intense and powerful energy protector. It enables you to release negative emotions and reflect on your true self. Patchouli, black pepper, and cypress are all good matches. For bringing your spirit into equilibrium again, Amethyst is the stone for you. It relaxes the mind and body, releasing insomnia's exhausting hold over you. Try it with lavender, clove, or frankincense.Tiger's Eye is the ultimate stone for determination, confidence, and attention to detail. Match it with fennel, ginger, or orange for the best effects. Clear Quartz is the all-healing stone, commonly thought of as the purest and strongest crystal of them all. It strengthens the healing properties of the vast majority of oils and thus can be positively matched with any. Which scent do you prefer? Red Jasper brings peaceful energy, no matter the surrounding environment. Its grounding effects are enhanced by vanilla, sandalwood, and patchouli oils. Fluorite is a great soother. It starves you of distractions and encourages trust in your own creative endeavors. For a good match, choose oils such as peppermint, rosemary, and lemon. Sodalite is fantastic for cultivating a deep inner peace. It's a brilliant stone for emotional stability. Use it with eucalyptus, coriander, or bergamot for the best effects. Rose Quartz enhances your sense of love, in regards to yourself, romance, and the universe at large. For love-enhancing energy, match it with jasmine, rose, or ylang ylang. Lapis Lazuli is the ultimate stone for self-awareness. It promotes reflection and knowledge from deep within. This beautiful stone pairs well with spruce, basil, and frankincense.  Mix and match the crystals and oils that suits you best! How to use these stones:You can use it almost as if it were a small massager. Apply it to points of tension around your neck for the best effects and for the fragrance to have the most positive impact. Since the set is made from natural stones, the colors may vary slightly from stone to stone, making each one utterly unique.
What's the best crystal for me?
You are only few answers away from finding out which crystal is best suited for your life's journey ✨
Conscious Rewards
Start earning points every time you shop, share or visit us to get exclusive discounts and offers
Give 30% off, get 1200 points
Give friends 30% off their first order, and you'll get 1200 reward points. It's a win-win!
100% Real Stones
We only sell the highest quality products made from genuine stones.
Secure Ordering
Guaranteed safe checkout through all major credit cards or Paypal
Happiness Guarantee
Unhappy with your order? Let us know within 60 days and we'll take it back and refund you the cost!