Free shipping on orders over $75
FREE SHIPPING OVER $89 USD
Showing 2 products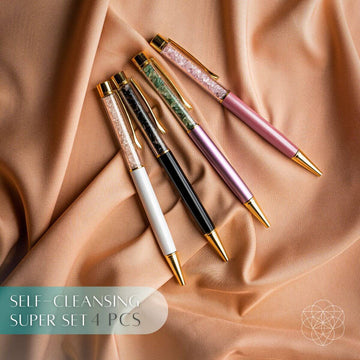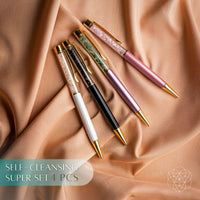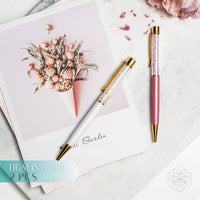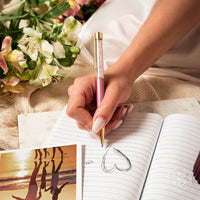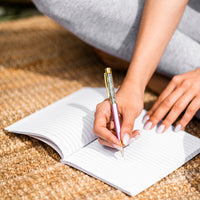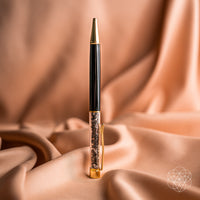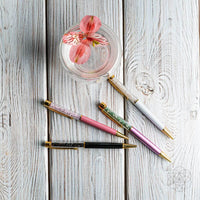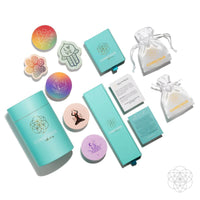 The Self-Cleansing Crystal Pens
Protection • Purification • Healing
Choose Variant
The Self-Cleansing Super Set
Protection Set
Healing Set
or $9.99 every 2 weeks. Interest-free
Ever feel like you have pent-up energy in your chest—something that eats at you from the inside out? Translating your emotions into words sounds too simple to actually work, but with these powerful crystal pens in tow, it could provide the outlet you've been looking for!We have three fantastic sets to choose from, each one containing two refills:The Self-Cleansing Super SetCombining all four pens: Rose Quartz, Clear Quartz, Smoky Obsidian and Green Aventurine, this superset brings the perfect blend of healing and protective energy into your therapeutic writing. It connects the crown and root chakras with the heart chakra, uniting your thoughts and emotions, and enabling you to release what's holding you back through your writing.HealingThe first set is made up of a Rose Quartz pen and a Clear Quartz pen. Both crystals operate on a high frequency, accelerating the healing process and bolstering your natural defenses. Use the Rose Quartz pen to write love letters to heal relationships or rekindle old flames, or use the Clear Quartz pen for boosting your positive intentions.ProtectionThe second set consists of a Smoky Obsidian pen and a Green Aventurine pen. Express yourself creatively, without worries, fears or doubts whispering in your ear. Use the Smoky Obsidian pen for journaling when you want to feel more grounded, or use the Green Aventurine pen for affirmations.Cleanse your aura with these powerful pens.How to useThese crystal pens can be used to write anything, however their benefits truly shine when writing down your emotions and affirmations. Keep a diary and write how you're feeling every day to help release emotional blocks. You can also use them in a gratitude journal or to write your intentions for the coming days or months. These pens can provide extra fuel to manifest your desires.As the stones are natural, the colors may vary slightly from stone to stone, making each one utterly unique.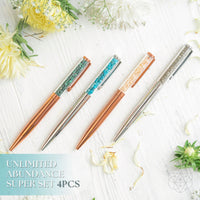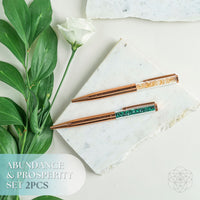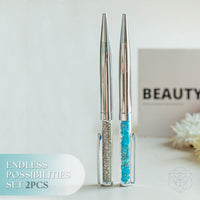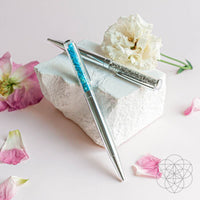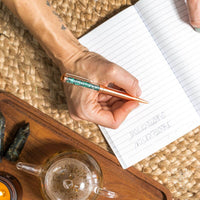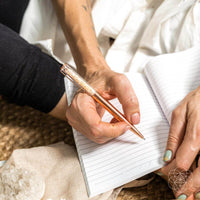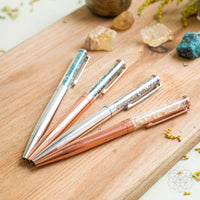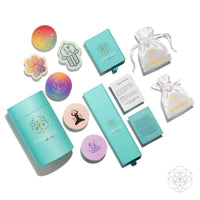 Unlimited Abundance - Manifestation Pen Set
Prosperity • Opportunity • Manifesting
Choose Variant
Manifestation Pen Super Set
Abundance & Prosperity Set
Endless Possibilities Set
Manifest magical miracles with every word you write. Featuring our most powerful crystals for manifesting, Citrine, Malachite, Pyrite, & Apatite invite the special energy of these gems to whatever your planning, scripting, journaling, and jotting. Reach for the Citrine pen when noting things you hope turn out well or when celebrating something you've experienced. Malachite is the perfect pen when you're seeking clarity and writing to navigate your thoughts. Pyrite exudes willpower and is a great option to write with when problem-solving. Journaling with Apatite is a perfect way to cater to your creativity and gives you the confidence to achieve anything.Grab the entire pen collection to experience the vast benefits of all four crystal pens.Abundance & Prosperity Set (Citrine & Malachite)Invite the energy of abundance, focus, and excitement to mundane tasks and obligations with the energizing crystals in the Abundance & Prosperity set. Citrine brings joy and optimism to all the work you do and makes attracting what you want almost effortless. Malachite, the stone of growth and expansion, helps eliminate any negativity that may prevent you from getting what you desire.Endless Possibilities Set (Pyrite & Apatite)This set is special for scripting–a powerful manifestation tool whereby you handwrite what you wish to attract. Pyrite uses the Law of Attraction to bring you willpower, stamina, and perseverance. With Apatite in hand, extra charm & sophistication will help you get where you're meant to go. Find something special in everything you write with this energy-evoking crystal pen set.Affirmation: "I send my wishful words out into the Universe and trust these gifts will return ten-fold."In differences lies beauty. Every stone is natural and hand-selected, making each set unique.
What's the best crystal for me?
You are only few answers away from finding out which crystal is best suited for your life's journey ✨
Conscious Rewards
Start earning points every time you shop, share or visit us to get exclusive discounts and offers
Give 30% off, get 1200 points
Give friends 30% off their first order, and you'll get 1200 reward points. It's a win-win!
100% Real Stones
We only sell the highest quality products made from genuine stones.
Secure Ordering
Guaranteed safe checkout through all major credit cards or Paypal
Happiness Guarantee
Unhappy with your order? Let us know within 60 days and we'll take it back and refund you the cost!