Free shipping on orders over $75
FREE SHIPPING OVER $89 USD
Showing 2 products
The Blissful Love Glasses Rope
Love • Amplifies Intentions • Healing
We've all felt love one way or another… That heart-skipping excitement whenever you see your significant other, even if it's just a picture. Being drunk on love is the best feeling in the world. Feel it more with Strawberry Quartz, but more importantly, feel it returned.  The Strawberry Quartz glasses rope is a stylish chain to keep attached to your glasses. Its loving energy will be with you whenever you need it, and its high-frequency vibrations will attract love and joy to your presence wherever you are. It amplifies thoughts, feelings, and intentions related to love. By increasing the frequency of the emotion, you increase the speed at which it's returned to you. Strawberry Quartz is such a powerful stone, it can single-handedly open the heart chakra.  Revel in the blissful feeling of love. How to use:Attach the rope chain to your glasses to adopt a new trendy look. Not only is it stylish, but it allows you to receive the powerful benefits of Strawberry Quartz 24/7. To increase the effects further, come up with visualization for your romantic intentions. Refresh the image in your mind every time you put your glasses on or take them off. This will crystalize the idea, accelerating the manifestation process. As Strawberry Quartz is a natural stone, the colors may vary slightly from stone to stone, making each one utterly unique.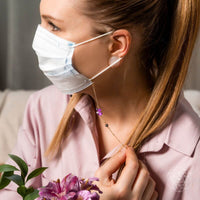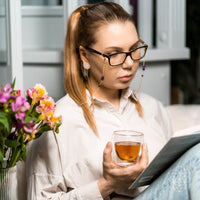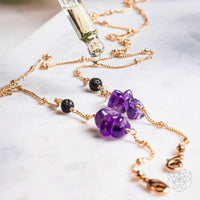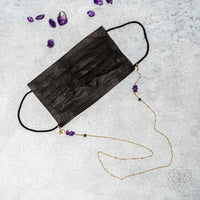 The Ultimate Protection Mask Chain
Intuition • Peace • Strength
Keep your mask easily accessible with The Ultimate Protection Mask Chain. It combines the protective energy of Lava Stone with the healing energy of Amethyst to create a unique chain that oozes style while safeguarding your energy. There are clasps included so that you can use the chain to hold your glasses if you prefer.Not only does this beautiful chain keep your mask or glasses handy, you can even use it as an essential oil diffuser! Lava stone is porous—this means you can add a drop of your favorite essential oil to one of the small black beads and it will absorb it like a sponge, holding the fragrance all day long. You can also apply your essential oils to the Amethyst stones. Rub them gently over your hands or neck to take in the benefits of both the stone and the aroma.Lava Stone activates the root chakra, grounding your energy and bringing you down to earth. The foundations of your lifeforce are strengthened and supported so that all the higher chakras can flourish too. Lava stone encourages you to control the fiery emotions within and soothe smoldering tempers before they get out of hand. With this stone, you can convert negative energy into positive action and overcome depressive episodes with more conviction. Its protective energy is fantastic for healing both mental and physical illnesses.Amethyst opens the crown chakra, enabling your energy to flow from root to crown without interruption. It amplifies Lava Stone's calming properties by creating a serene environment to relax. Common benefits for people who work with Amethyst include heightened awareness, enhanced intuition and more creativity. It's one of the best gemstones for all-encompassing love and it has the Quartz gene when it comes to healing and bolstering the immune system.Raise your energy and keep your mask easily accessible at the same time.How to use itWear the chain around your neck and fasten your mask to it so that it's always at hand if you need it. There are clasps included if you'd prefer to use it as a glasses chain instead. Apply essential oils to enhance the effects of the natural stones and experience the bliss of your favorite scent at the same time. As the mask chain is made of natural stones, the colors may vary slightly from stone to stone, making each one utterly unique.
What's the best crystal for me?
You are only few answers away from finding out which crystal is best suited for your life's journey ✨
Conscious Rewards
Start earning points every time you shop, share or visit us to get exclusive discounts and offers
Give 30% off, get 1200 points
Give friends 30% off their first order, and you'll get 1200 reward points. It's a win-win!
100% Real Stones
We only sell the highest quality products made from genuine stones.
Secure Ordering
Guaranteed safe checkout through all major credit cards or Paypal
Happiness Guarantee
Unhappy with your order? Let us know within 60 days and we'll take it back and refund you the cost!