Free shipping on orders over $75
FREE US SHIPPING OVER $79 USD
Showing 26 products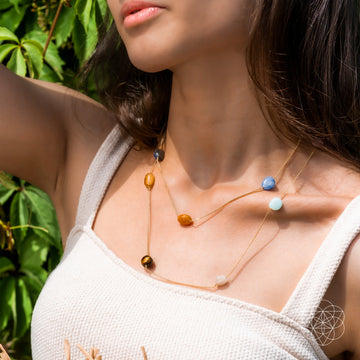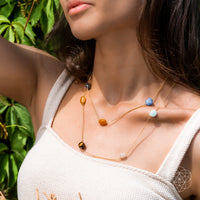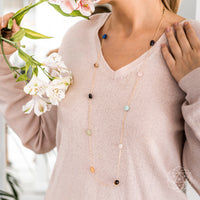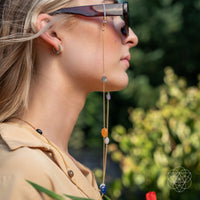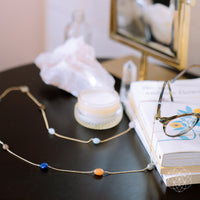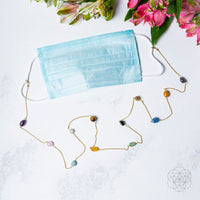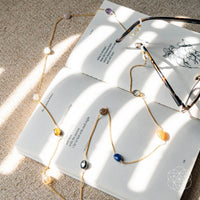 The Crystal Zodiac Chain
Multifunctional • Protection • Zodiac
or $9.99 every 2 weeks. Interest-free
Each sign of the Zodiac has a crystal counterpart and for the first time ever, we have one product with ALL twelve crystals! You can't find this beauty anywhere else. It's a one-of-a-kind healing item that you can use in a myriad of different ways: an essential multifunctional addition to any crystal collection.With one gorgeous healing crystal for each sign of the Zodiac, this chain has a unique effect on every individual! Whether it's soothing a Taurus's stubbornness with Rose Quartz, helping a Capricorn become more tactful with Blue Aventurine, or encouraging a Scorpio to find their inner strength with Obsidian, The Crystal Zodiac Chain will help you align and harmonize your energy. Just as it helps a Libra find inner peace or an Aquarius gain mental clarity, you can be sure it will have a special effect on you and your Zodiac.Consider it a one-stop item for all your jewelry needs—you can use it in five different ways! Fancy a bracelet? Wrap it around your wrist for a unique boho style. Prefer a necklace? You can wear it as a long matinee necklace or loop it round for a shorter style one like a choker or collar. This awesome chain can even be used to hold your mask; keep it around your neck so that it's easy to slip on when you need it. Rather have it hold your glasses or sunglasses? This chain has you covered. There isn't much it can't do—and no matter how you use it, it will always protect your energy and make you look like a star!How to use:Wear this chain as a bracelet or a necklace, depending on how you feel at the time. Attach your face mask and wear it around your neck to keep the mask handy wherever you go. You can also attach other things, such as glasses. If you feel stressed, or out of sync, clutch the chain and absorb energy from the beads. They help you reconnect to the present moment and find stillness.Since the chain is made from natural stones, the colors may vary slightly from stone to stone, making each one utterly unique.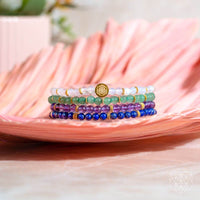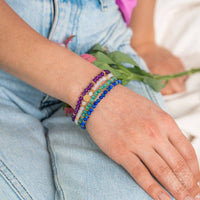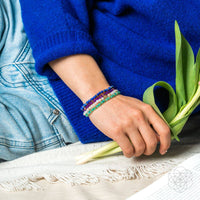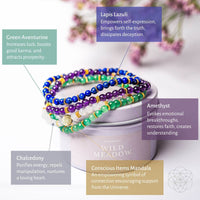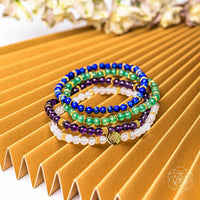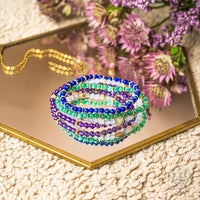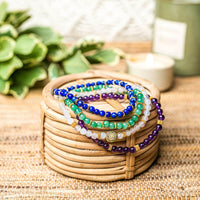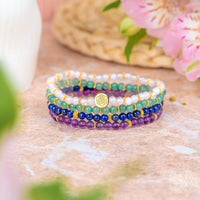 Good Karma Bracelet Set of Luck & Success Pack of 4
Emotional Reset • Total Protection • Trust the Process
or $14.99 every 2 weeks. Interest-free
Anything is possible with the radiant luck and spiritual empowerment of this breathtaking bracelet 4-pack. Ready to attract more angel numbers, divine timing, and serendipitous opportunities for success!? With these crystals of good karma, the odds are always in your favor.Amethyst encourages you to take a leap of faith! Jump when opportunity strikes. You can rely on Amethyst to strengthen your intuition and empower your third eye, so even when you're unsure, the all-knowing eye is always one step ahead.Lapis Lazuli removes obstacles and shields you from the negativity that can block your lucky streak. This royal blue beauty gives you the courage to take chances and the confidence to excel in all you pursue by eliminating doubt and fear. Green Aventurine is the ultimate wingman for good luck, good karma, and everlasting fortune. This gem aligns you with your life purpose and attracts wealth, career growth, and success.When the time comes, your intuition is the first to nudge you toward growth and change. Chalcedony ensures that you hear the call for expansion loud and clear. This graceful healing stone has a mother's nurturing and protective energy but the encouraging force of that crazy aunt who dares you to take wild adventures.Together, this set curates fascinating energy of optimistic luck, fortuitous opportunity, and faith that the Universe is here to love and support your journey. Libra resonates with this set as they're notorious for going with the flow and leaning on luck to guide them.Affirmation: "I make my own good luck and expect wins every day."How to wear:Place Amethyst and Chalcedony on the left wrist and Lapis Lazuli and Green Aventurine on the right to evoke healing, dismantle doubt, and ground your energy in the supportive love surrounding you. For immediate luck, stack the set on the right hand to manifest positive outcomes. Stack set on the left hand to awaken to the signs and symbols sent to you for guidance.Pairs Well With:Manifest Miracles - Prosperity Smudging Kit (5 Pieces)Golden Hand of Fortune - Bracelets of WealthIn differences lies beauty. Every stone is natural and hand-selected, making each set unique and personal to the wearer.
What's the best crystal for me?
You are only few answers away from finding out which crystal is best suited for your life's journey ✨
Conscious Rewards
Start earning points every time you shop, share or visit us to get exclusive discounts and offers
Give 30% off, get 1200 points
Give friends 30% off their first order, and you'll get 1200 reward points. It's a win-win!
100% Real Stones
We only sell the highest quality products made from genuine stones.
Secure Ordering
Guaranteed safe checkout through all major credit cards or Paypal
Happiness Guarantee
Unhappy with your order? Let us know within 60 days and we'll take it back and refund you the cost!