Free shipping on orders over $75
FREE SHIPPING OVER $89 USD
Showing 2 products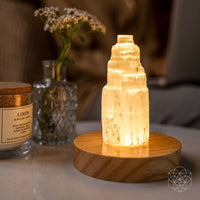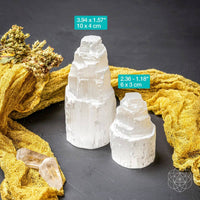 Selenite Cleansing Lamp
Purifying • Deep Sleep • Meditation
Choose size
Large (3.94 x 1.57" / 10 x 4 cm)
Small (2.36 x 1.18" / 6 x 3 cm)
The moon doesn't create its own light - it reflects that of the sun. Likewise, the Selenite Cleansing Lamp may appear to light your room, but what's more important is how the light is reflected within you. It purifies parts of you that are no longer essential to your wellbeing.If your crystal jewelry feels like it's losing its touch, if its vibrant energy is wearing off, then place it under the glow of the Selenite Cleansing Lamp. Leave it there throughout the night to bask in the energy of Selenite. It's the ultimate crystal cleanser. No other stone comes close when it comes to removing the old energies embedded within crystals. Named after the Greek goddess of the moon, Selenite controls your inner tides too. It gives you power over your emotions, encouraging you to bring a stillness within. It's said to induce a deep and peaceful state that's perfect for meditation. Just as it cleanses other crystals, it cleanses your own mind, body and spirit. Leave it on your desk while working to focus with a clear head. Cleanse your crystals. Cleanse your room. Cleanse yourself.How to use this stone:The light emitted from this lamp is soothing. It brings you down from emotional extremes and is easy on the eye. That makes it ideal for enhancing concentration. Switch it on after sundown to keep an aura of productivity. Alternatively, you can leave it on as a nightlight to help you relax into a deep sleep. As Selenite is a natural stone, the colors may vary slightly from stone to stone, making each one utterly unique.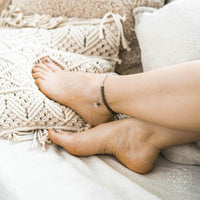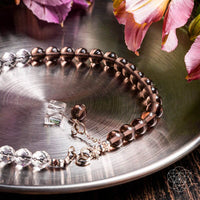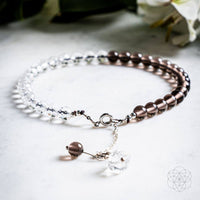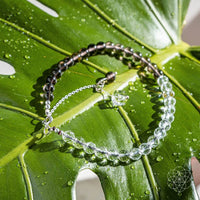 The Energy Shield Anklet
Serenity • Cleansing • Healing
If you're seeking to harmonize your energy, consider aligning the root and crown chakras for a sense of balance. This anklet combines the mystical qualities of Smoky Quartz with its clarity-enhancing counterpart, Clear Quartz, to create a versatile piece for enhancing protection and harmony. Smoky Quartz, with its deeper hue, invites a positive outlook, even in uncertain moments. It acts as a guiding light, helping you navigate through challenges. Additionally, some believe it may contribute to an overall sense of well-being and create a harmonious environment. Wearing it creates a protective aura around you, allowing you to let go of doubts, fears, and insecurities. Smoky Quartz gently opens the root chakra, assisting in anxiety relief and self-assurance, reminding you of your connection to the beauty of life. Clear Quartz elevates your intuition to new heights by activating the crown chakra. It purifies your energy and safeguards your aura against lower-frequency influences. Known as the "all-healer," Clear Quartz promotes well-being and amplifies positive energies you send out into the universe. Enhance your protection from environmental toxins, including EMF radiation. Affirmation: Embrace soothing mantras such as "I am nurtured and protected by the natural forces of the universe."As the anklet is made of natural stones, the colors may vary slightly from stone to stone, making each one utterly unique.
What's the best crystal for me?
You are only few answers away from finding out which crystal is best suited for your life's journey ✨
Conscious Rewards
Start earning points every time you shop, share or visit us to get exclusive discounts and offers
Give 30% off, get 1200 points
Give friends 30% off their first order, and you'll get 1200 reward points. It's a win-win!
100% Real Stones
We only sell the highest quality products made from genuine stones.
Secure Ordering
Guaranteed safe checkout through all major credit cards or Paypal
Happiness Guarantee
Unhappy with your order? Let us know within 60 days and we'll take it back and refund you the cost!